In 1971, we invented the world's first fishing line made from fluorocarbon.
Every day since that day, we've strived to create products that make a difference to anglers all over the world.
And since we are
the only fluorocarbon company that
makes its own fluoro resins
and controls the process from start to finish, we're uniquely able
to develop lines with high-performance features
to help anglers catch more fish.
*Seaguar 's fluorocarbon line is made primarily of polyvinylidene fluoride (PVDF) produced by Kureha, and manufactured and sold by Kureha Gohsen, Kureha's group company.
About Fluorocarbon
①ALMOST ZERO ABSORPTION OF WATER, SUPERIOR STRENGTH
The test results on how the impact strength and tensile strength of fishing line in water change over time are given in the diagram below. Note that the strength of fluorocarbon does not change even when it is used over an extended period of time. This is because fluorocarbon absorbs almost no water.
②LIGHT REFRACTION CLOSE TO THAT OF WATER
Naturally, a good fishing line must be hard for a fish to see. The standard for judging a line's visibility must be based upon its performance in water. The closer a line's refraction index is to that of water, the more difficult it is to see the line. Light refraction index of fluorocarbon is 1.42, only 0.09 different from that of water. On the other hand, the light refraction index of nylon is between 1.53 and 1.62.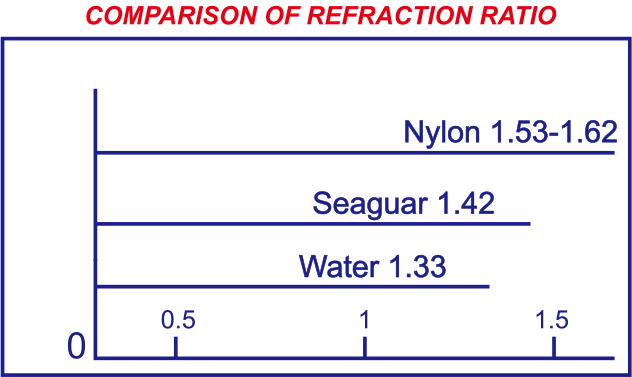 ③THREE TIMES THE SINKING SPEED OF NYLON
The diagram illustrates the measurement of sinking speed in water based on specific gravity. While nylon line takes 40 seconds to sink 30cm, Seaguar takes just 15 seconds.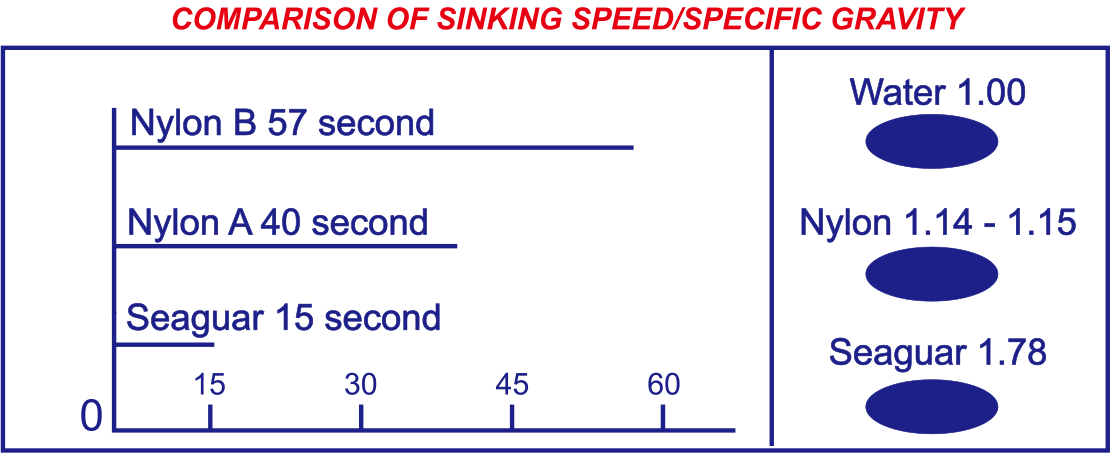 ④HIGHLY RESISTANT TO EFFECTS OF SOLAR RADIATION
The diagram gives the data for a 1000 – hour ultraviolet test. While the strength of nylon is adversely affected, fluorocarbon remains almost uninfluenced. This is further proof of fluorocarbon with exceptional all-weather capabilities.